Solent
Oceanmaster
Solent Oceanmaster series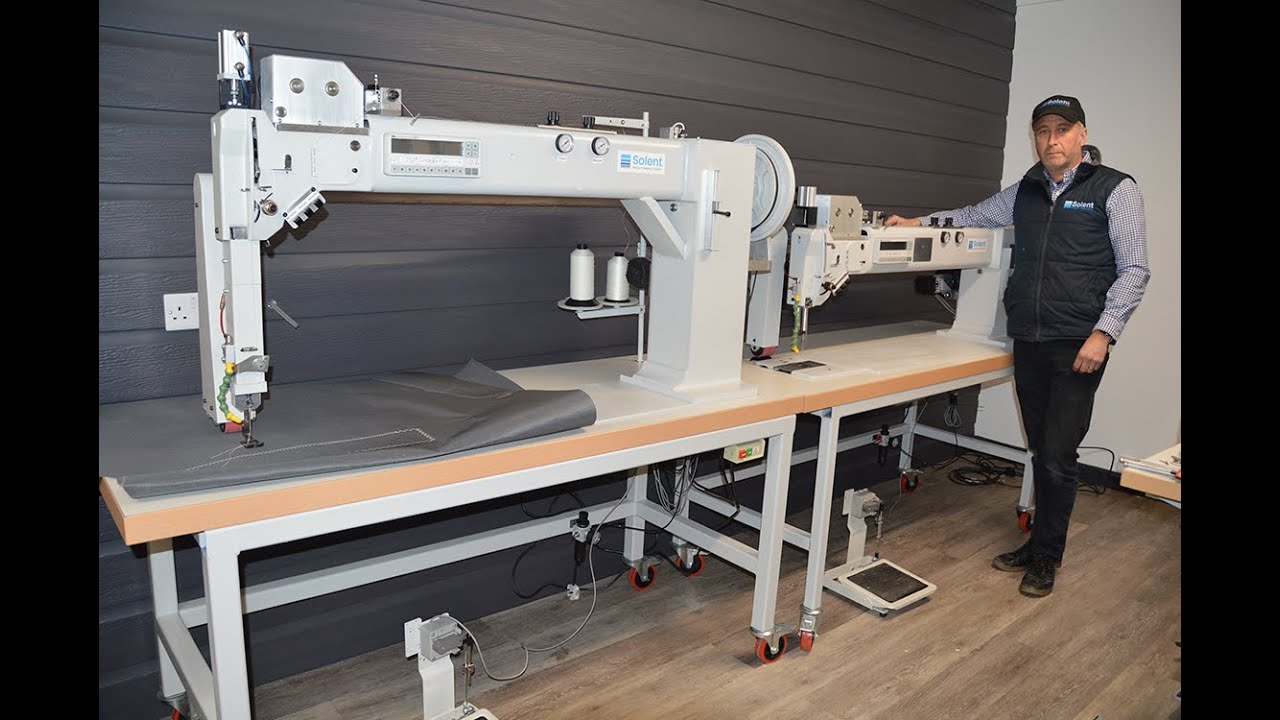 Solent
Oceanmaster
THE SOLENT OCEANMASTER IS THE LARGEST AND FASTEST, HEAVY DUTY SAILMAKING MACHINE SERIES AVAILABLE.
IT'S UNIQUE DESIGN INCLUDES THE BEST FEATURES FOR COMBINING HUGE UNDERARM CLEARANCE AND HEAVY WEIGHT MATERIAL PROCESSING WITH THE SPEED OF A MEDIUM WEIGHT MACHINE.
THIS ONE MACHINE CAN UNDERTAKE ALL WORK FROM SMALL CRUISING SAILS THROUGH TO SUPERYACHT.
BUILT IN OUR FACTORY IN THE UK THE PRICE AND VALUE FOR MONEY IS UNTOUCHABLE TOO!
We offer two underarm sizes to suit all loft sizes:
SOLENT OCEANMASTER XXL
XXL Extra long and extra high arm 1,060 x 500 mm clearance
5 bearing upper arm and handwheel support
Heavy duty puller PL50x100 large surface area 50x100mm
max speed 600spm (subject to materials sewn)
Heavy duty, 4-motion feed to reduce needle deflection and feed efficiency with stitch length lever
Largest capacity rotary hook
Steel frame construction
Unrivalled design.
3 step (6 point) and standard zigzag fully with simple cam changeover. Optional 2 step (4 point) cam available.
Extra large handwheel 280mm diameter with external support
Pneumatic foot lift and pressure adjustable by regulator
Pneumatic reverse by push button Electronic handwheel by push button
Needle cooler
Pneumatic puller lifting with foot, in reverse and by push button
Heavy duty steel frame stand with locking wheels
motor AB321, DC1550 control panel
Independent moveable foot pedal for any work position
Foot lift: 26mm
Puller lift: XXL - 80mm
Needle System: 794 size 140 to 230
Stitch width: max 12.7mm
Extra Long Needle bar stroke: 58mm
Thread sizes: V92, V138, V207
Subscribe for the latest offers, product and trade show news
Keep up to date with news and be the first to hear about new products, offers and exhibitions.