Miller Weldmaster
T300 NEW 2022
NEW Miller Weldmaster T300 - 2022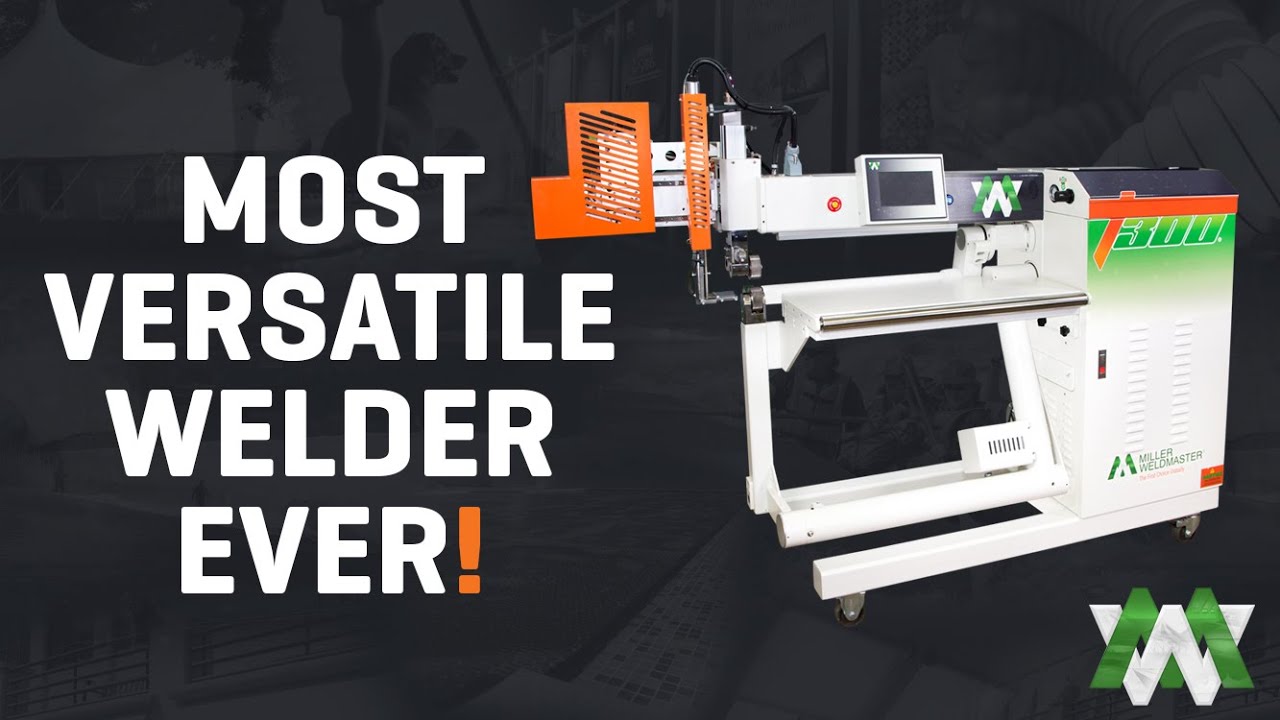 Miller Weldmaster
T300 NEW 2022
More Arms Than Ever Before
Leading off the newly designed T300 is the addition of yet more arms. Miller Weldmaster have added their single roller arm for the finishing of the ends and complex three-dimensional products. Every new T 300 comes standard with double roller table arm for straight welds, dual positioned swingarm for three-dimensional products, and the newly included single roller arm.
What Seams Types Are Available?
The T300 was designed to do straight seams, curved seams, and three-dimensional products. The T300 also gives our customers the ability to make nearly any seam type with the use of hems, overlaps, pole pockets, and more. The seams created from the T300 are not only waterproof, but they are also so strong they will outlast the material. Moreover, multiple technologies may be required for finishing products. The T300 can be equipped with Hot air welding and hot wedge welding or have the ability to do both.
What Welding Types Are Available?
The new model T300 has the ability to offer hot air welding technology, wedge welding technology or the machine can be equipped with both options. The dual technology options enable you to create a wider scope of products all with the same new design T300 head.
How Does It Improve Weld Efficiency?
Heat, speed, and pressure are the three key factors to creating the perfect weld. Miller Weldmaster now revolutionizes those three key factors by enhancing the weld even more with precise positioning performance. Three synchronized control motors now precisely position the welding head to the optimal welding position. This in turn creates more weld efficiency and higher speeds due to repeatable nozzle positioning.
Power Requirements
208-240 Volts - Single Phase -25 Amp.
380-400 Volts - Single Phase -16 Amp.
Air Requirements
2cfm @ 100psi (+ 12cfm if shop air)
Maximum Temperature
Hot Air: 730˚C (1,346˚F)
Hot Wedge: 450˚C (842˚F)
Dimensions
Width: 0.6m (23")
Length: 2m (79")
Height: 1.66m (65")


Welding Cycle
Up to 30m/min (100ft/min)*
* Depending on the application, the seam width and the type of material used
** Additional guides might be necessary
Subscribe for the latest offers, product and trade show news
Keep up to date with news and be the first to hear about new products, offers and exhibitions.